As the rain pours in, slowly the temperatures come down and there's a nip in the air.  Changing colours happening and we realize that autumn is on its way. I love how nature has time for everything. And as one goes about outdoors, there's a longing to bring the colours indoors, albeit a bit more warm and more rustic. I sum it all to a soup that goes on simmering on the pot slowly – with the flavours blending in, and the aromas spreading all over in the house, a comfort feeling it gives. Doesn't it? 
As Autumn sets in, the days getting shorter and then the leaves turning colours, it's the season of reflection, retrospection, warmth, and thanksgiving. 
Usually, I am not a soup person but as we travelled and experienced the different changes in our environment, one starts to learn and enjoy different things in life. Many moons ago I wouldn't have thought to talk about kantarellis or the soup, but now I am a big fan. Learning to enjoy the local culture is what having a chance of living in a different country is all about.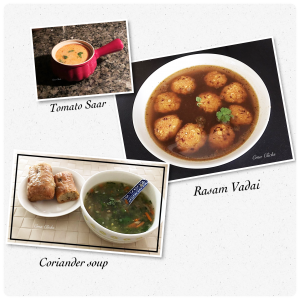 In fact, as I started to write this, I need to say: what exactly are soups? You know after moving here with the pandemic challenges, it was tough finding friends and then we found a nice 90-year-old friendly Italian neighbour. And as its goes, we enjoyed exchanging food from the front doors. And when I shared with her our daal, or sambhar or rasam, all of those were a 'soup 'for her. That's when it struck me, our rasam, was indeed a soup- clear and spicy, a South Indian dish.
Made with a bit of lentils, a lot of spices, coriander, tamarind and as it sizzles over the stovetop, the aroma literally engulfs the whole house. And we have enjoyed this with vadas- they are lentils dumplings, that are first soaked and then fried.
Another memory that randomly tugged in was when my kids were small, I often used to make soup and, mind you, would add potatoes, onions, tomatoes, carrots and moong lentils (some teaspoons) and would add in a lot of coriander. A little bit of garlic and ginger too for that flavour. Once everything was boiled, I would blend in the mixer and a nice beautiful, coloured soup was ready. We had guests that day and my brother-in-law was so impressed with soup, that he named it coriander soup and asked me the recipe. 
Now, of course over the years my coriander soup is more refined and with lemon/lime added to it has a different flavour all together. Healthy and light on stomach and paired with a slice of home baked bread this is a great starter. Learning to enjoy the coriander soup here, as I was so happy getting the bundles of fresh coriander all the time.
Some soups can be like a one pot meal by itself. Like the vegetarian Manchow soup or even the hot and sour soup. With a little bit of tweak to the recipe, adding the tofu to it, I get my protein content too added in.
Then we have our own tomato "saar", or as I would translate it to, tomato soup. Though it's a soup, it's made differently, tomatoes are blanched, skin removed and blended in with buttermilk or piimä. That rosy, pink colour it is and then tempered with cumin seeds and green chilies in ghee/clarified butter. It's a tasty accompaniment to a pulao or vegetable rice. There's a different version to it too it as it made with coconut milk too. Garnished with freshly chopped coriander leaves, it is ready to serve.
My previous articles largely covered lentils/ pulse dishes, I must make a mention here about the split moong beans (yellow split gram) or the masoor(red) lentils. Both are good as filler for soups, one as dal shorba, and the other could be a little thicker and served with plain rice too. 
"Soup is a lot like a family. Each ingredient enhances the others; each batch has its own characteristics; and it needs time to simmer to reach full flavour." So well quoted by Marge Kennedy English novelist and playwright. 
The best thing I like about soups is that it's never the same as I have found out even with simple tomato because the varieties might be different and some days, I want a more of heat with lots of black pepper or some days a little tangy to suit my moods.
So, as we enjoy the beautiful medley of colours outdoors, time to put on a pot on the stove simmering away as I retrospect, reflect and be thankful for all the blessings my way.
"Soup puts the heart at ease, calms down the violence of hunger, eliminates the tension of the day, and awakens and refines the appetite," quoting Auguste Escoffier, French culinarist
Engineer by education,
passionate photographer & food enthusiast from India,
presently based at Burlington,
Canada is happy to contribute this column
which combines her love of food & photography.
Seema Ganoo