To keep the pulse in order, "pulses" are important, especially for those of us having vegetarian food as the main option! So, let's consider these important sources of protein and minerals in our diet.
 Pulses are legumes consisting of beans, lentils, and peas. In the Indian cuisine, the dal, often translated as "lentils," are actually a split version of pulses, such as peas, chickpeas and so on. If a pulse is split into half, it is a dal. For example, split mung beans are mung dal.
 There are several kinds of dal: Chana dal (split Bengal Gram), Arhar dal (split Pigeon Peas), Moong dal(split Green Gram), Udad dal (split black lentils), Udad dal chilka (Black Gram with skin), and Masoor dal (red lentils). Dal forms the most integral part of the Indian cuisine. Very versatile, filling, healthy, it can be enjoyed as snacks, main courses, side dishes or even as desserts. One can add to it vegetables or meat or have it plain; or add some onions, garlic, ginger too. It is a healthy dish accompanying the bowl of rice or the flat Indian bread or the Naan too!
 Each dal can be cooked on its own or together. In this post let's talk about the various dishes with mixed dal and different ways it can be enjoyed.
 Dal Baati -a traditional Rajasthani dish of dal (a mixture of Chana dal, Arhar dal, Moong dal, Udad dal chilka) and eaten with Baati (a baked wheat ball) that's crushed with ghee (clarified butter) poured over it. To make dal, boil the aforesaid mixture of dals with salt and turmeric. Heat some oil, and add bay leaf, cumin seeds, cloves, dried red chili, and cardamom. Once they splutter, add chopped onions, and later some chopped tomatoes and ginger garlic paste. Add coriander powder, garam masala powder and salt as per taste. Add this tempering to the boiled mixed dal and adjust the consistency by adding water to it. Baati is made of dough of wheat flour, semolina, salt, baking powder and some ghee along with a little bit of yoghurt and water. Divide the dough into 8-10 balls and bake them in a preheated oven at 175o C. 
 Meanwhile if these different dals are soaked for couple of hours along with rice and ground up, they can be enjoyed as Adai, a South Indian savoury pancake or as Handvo, a Gujarati baked savoury cake.  For Handvo, the batter needs to be fermented for couple of hours and yoghurt is added along with ginger, garlic, chilli,
salt and sometimes I add bottle gourd and corn too. The mixture is then baked in the oven at 180o C and seasoned with tempering of sesame, mustard and carom seeds.
 To make Adai, I usually add in vegetables like cabbage, onion, carrots to the batter along with some dry red chilli, coconut and salt. The batter is poured over a greased pan to make the pancakes. This can be a nice healthy, wholesome breakfast or evening snack enjoyed with coriander or coconut chutney.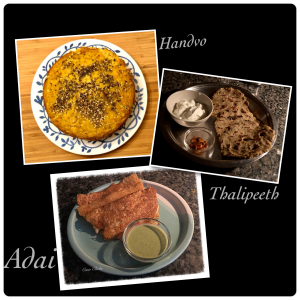 Cooking rice and dal together is a perfect protein match and that's what Panchmel Khichadi (the comforting food) is all about. For a cup of rice, I added another cup of mixed dals-tur, mung, masoor and chana along with assorted vegetables like potatoes, onions, peas, cauliflower, carrots and spices.

A nice dinner option accompanied by kadhi, a tempered version of buttermilk (piima) using garlic, or ginger, or just chilies, and curry leaves and mustard seeds.

Thalipeeth is a Maharashtrian dish, while Chakali, a fried Diwali snack, and a home favourite are made with different kinds of dals and grains which are washed, dried, roasted, and ground into powder called Bhajani. Thalipeeth is a flat bread. The dough is patted on the rolling board by hand and then cooked over on the pan on both sides, covering it. Usually chopped onions, green chilies, coriander are added to the flour along with hot water to form the dough. We enjoy it with pickle and yoghurt.
 So, it is a medley of colours and flavours – the dals and the rustic flavours they bring you. Since they are bland by themselves one can add different spices or vegetables etc. to make their own. The same dals when cooked differently can be enjoyed as a snack, main course or accompaniments. More to follow …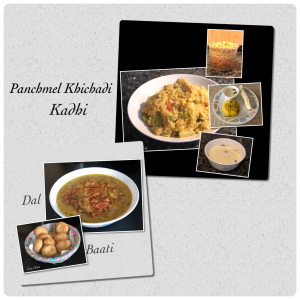 Seema Ganoo
Engineer by education,
passionate photographer & food enthusiast from India,
presently based at Burlington, Canada is happy to contribute this column
which combines her love of food & photography.