At the onset, let me take this opportunity to wish you all a happy and blessed 2023. With the new year comes new resolutions, newer goals, and life seems to start anew. Yes, this is exactly the case for us as we settle back in Vaasa after our Canadian stint.
Time for the next article and in my mind was this phrase from William Cowper's poem, "The Task" (1785): "Variety is the very spice of life, that gives it all its flavor." Going on prompting me to write about the variety in our lives.
What exactly was "variety" and why do we need it in our lives is what made me think. We need to get out of our mundane activities and look at the world with different eyes and I must say doing the routine activities but differently does add to our pleasures, which then takes me back to my kitchen. The same aloo baingan (potato eggplant) veggie cooked in a different medium, that is the oil, tastes differently. And so it goes with the spices, that when added can alter the taste altogether bringing the much-needed variety to our palate. Hence validating to "variety is the spice of life," and to the spices, as it is always food for the thought or thoughts of food all intertwined.
All those spices and herbs in your spice rack can do more than provide calorie-free, natural flavorings to enhance and make food delicious. They're also an "incredible source of antioxidants and help rev up your metabolism and improve your health at the same time", as stated by Suzanne Marie Somers, American actress, author, singer, businesswoman, and health spokesperson. As I read this, I realized we have different spices which we add up to different vegetables, dals, and beans we cook, which eventually makes our food tastier and at the same time healthier, as the spices and the contents work together to create a good effect on our stomach.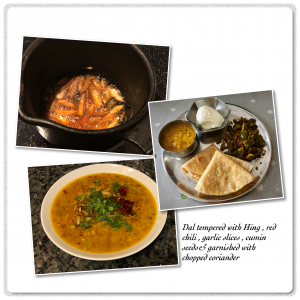 Spices that we use in Indian cooking are used to enhance flavour, add texture, and also add colour to the dishes. The spices don't necessarily make the food hot as in terms of being spicy but at the same time they have medicinal properties too. During my childhood a stomach-ache complaint was quickly attended to by a pinch of asafoetida mixed in a teaspoon of ghee. Those are my "go to" things, reminiscing on my grandmother´s and mother´s advice.  Similarly, we were given a teaspoon of carom seeds to eat a bit or swallow with a glass of tepid water for a stomach-ache or flatulence. Turmeric is antiseptic and helps to stop blood flow in the case of some small injury in the kitchen. All this is readily available in our spice box.
What I like about our spices is there is variety in usage -some common spices we add to most vegetables and dals, while some, for example, like carom seeds only to a selected few vegetables like cluster beans. The way a spice is added in the oil for tempering too follows a sequence. I just go about mechanically by adding first the oil, then the mustard seeds, then asafoetida, then turmeric powder, and then the garlic, ginger and finally the vegetables. This sequence makes sense scientifically as all these spices cook in different times. For example, turmeric needs more time hence its added first and so on… these are the specific spices that go into making of most of the dishes.
Introducing the first spice that is the heart of Indian cuisine, asafetida, or asafoetida, normally called as Hing is used extensively in our kitchen. It is gum resin and available as a rock or in powdered form. Its taste is pungent, strong, sulfuric, and just a pinch is sufficient to extract its properties and enhance the taste of other spices. It is always added during cooking and not sprinkled over the dish. An interesting and a strong pungent smell, can also be overpowering and therefore must always be stored in airtight containers. I may as well say that to all my dishes, the first thing added to the hot cooking medium is "Hing" in the savoury dishes like the veggie, dals (lentils) or beans. In dals, I would finish off the dish by adding some more Hing, mustard or cumin seeds, dried red chili, sliced garlic to the tempering either in oil or ghee, and then stirring it into the dal to add the much-needed punch and flavour to it.
The secret of happiness is variety, but the secret of variety, like the secret of all spices, is knowing when to use it, quoting Daniel Gilbert.
And the spice saga continues……
Seema Ganoo 
Engineer by education, passionate photographer & food enthusiast from India, living in Vaasa,
and is happy to contribute to this column which combines her love for food & photography.