Next in queue was the coriander peeping in from my bottle.
What I like about coriander is that each part of that plant is used, be it the leaves, stems or the seeds! It works as a spice or a herb and must say the flavours from each part of the coriander are different.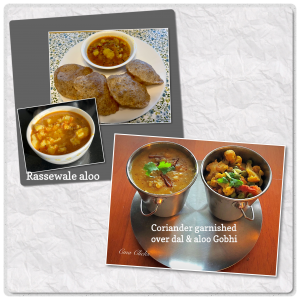 Infact the whole flavour of coriander is stored in the stems of it. That being said, I remember my aaji, grandmother would take the plant, pluck out the leaves and the little fresh stem underneath which could be further chopped or used as is depending on the type of the garnish. The stems would be tied up and used to flavour the dal, the amti as we called – the split pigeon lentils. Now as I cook our meals, all these learnings flash on and in reminiscing about those memories, the dishes are simmering away in my kitchen. So rightly said by Laurie Colwin ,"No one who cooks, cooks alone. Even at her most solitary, a cook in the kitchen is surrounded by generations of cooks past, the advice and menus of cooks present, the wisdom of cookbook writers."
Later, I had seen my mother chopping the coriander finely and using it. As I started my cooking ventures, I started off blending in the coriander stalks, leaves everything in the onion, tomato, garlic, ginger mixture to get those refreshing flavours. The funny thing was my better half didn't enjoy coriander leaves garnishing and was very picky about it. Slowly this mixing in and enhancing the flavours brought about the change and now things are different, as coriander is enjoyed as a garnish.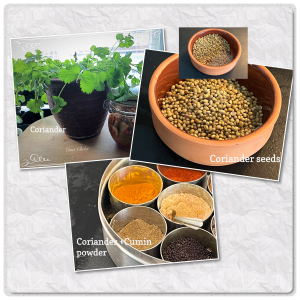 Talking about the seeds, just taking a couple, and crushing them a little in the pestle mortar can be added when making the fenugreek fritters or our samosas. Sometimes you can just finely crush the seeds and add them the vegetables or dal and it adds to their flavour.
Roasting and grinding the coriander seeds and jeera (cumin seeds) makes the homemade spice mix which could be added to a simple veggie like aloo matar or aloo gobhi (potato peas or cauliflower) and the taste of the dish is so different. Usually, we make this spice mix at home, the recipe is usually twice the amount of coriander seeds to the amount of cumin seeds. The aroma that fills up the home as one roasts the spices is wonderful. One must be careful so as to not burn them. It takes just a couple of minutes to roast, and once cooled, it can be ground and used to flavour the dishes- the dals (lentils) or the veggies.
Rassewale aloo – a simple boiled potato dish spiced with roasted ground coriander and cumin seeds powder, turmeric, chili powder and finely chopped ginger and tomato. It makes a nice dish paired with our puri or even naan or tortillas. In a pan, add a tablespoon of oil, and as it heats up add a pinch of asafetida, and then mustard seeds. As they crackle, add in a teaspoon of turmeric, a little more than a teaspoon of coriander and cumin powder, chili powder and salt as per taste. Then add a finely chopped half an inch of ginger, wait just a minute or two and add in finely chopped tomatoes. Allow them to cook well. Meanwhile chop or mash boiled potatoes, four small ones and then add them to the tomato mixture. Mix it thoroughly and then add a 1.5 cups of water, and again it depends on the consistency you like. Check in for salt, add a pinch of sugar and a pinch of amchur powder (dried mango powder). Once it boils it is ready to be served, garnished with finely chopped coriander. One can add green peas to it too, along with potatoes.
Next talking of leaves, we love the coriander chutney which pairs off well in sandwiches, or on the sides with fritters or samosas. 
Coriander seeds with its earthy flavours goes into many spice mixes as spices stories continues…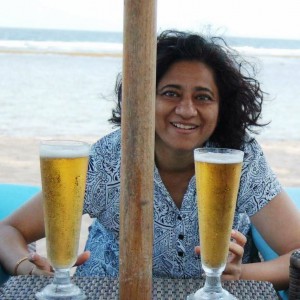 Seema Ganoo 
Engineer by education, passionate photographer &
food enthusiast from India, living in Vaasa,
and is happy to contribute to this column
which combines her love for food & photography.