"Each spice has a special day to it. For turmeric it is Sunday, when light drips fat and butter-colored into the bins to be soaked up glowing, when you pray to the nine planets for love and luck." 
Chitra Banerjee Divakaruni, The Mistress of Spices.
As I write this today, the 6th of March, is the Holi dhahan day- the full moon when a fire is lit and, as we say, the time to let go of all evil things and start of a new time. Next day is the Holi- the festival of colours, the festival of spring where we throw and sprinkle colours on each other and have a good time.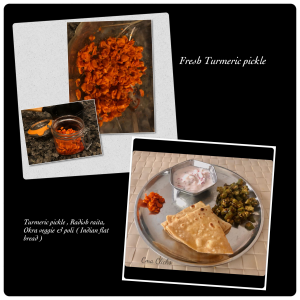 Now as my spices stories continue, "turmeric' was the first thought that came in and it can be distinguished by its bright yellow colour which is the base of any Indian gravy. The colour that can stain, but also a very promising colour as it also holds a place in our 'Haldi Kumkum' box – a staple in every Indian household. Kumkum is the vermilion powder, the red coloured one and the turmeric the yellow one which goes in different small compartment in a metallic box. It could be a silver, steel, or brass one.  They are used for social and religious rituals.
As I have learnt, turmeric is the one spice, as they say, the goddess of it all-, it is anti-inflammatory, antiseptic, and adding flavour and colour to our dishes. When we talk of its medicinal properties, it again reminds me of yet another grandma's recipe for cough & cold. Adding a teaspoon of turmeric powder along with sugar to a hot cup of milk. This relieves and soothes the sore throat.
Then, we have the turmeric concoction, which most people call turmeric tea. In a pan pour a cup of water about 250 ml, add grated ginger (a few gratings). Then add a teaspoon of turmeric powder, and then add crushed black pepper about a teaspoon. Strain and pour it in glass or cup, one may add honey to it. This has been our tried and tested remedy for cold, cough or sore throat. 
Using turmeric powder in our cooking is a given and usually I add a teaspoon or two of it once the oil heats up, and the cumin or the mustard seeds crackle. So, all the veggies, dals, the lentils, the beans and even the Khichadi (the rice and dal hotchpotch) is flavoured with turmeric. The yellow colour is a giveaway. 
But then have you ever wondered the turmeric-stained clothes when washed with soap turns to red or orange?! There's a chemistry involved here, an acid base reaction. Turmeric contains curcumin, which is acidic in nature and the soap is basic and hence this reaction.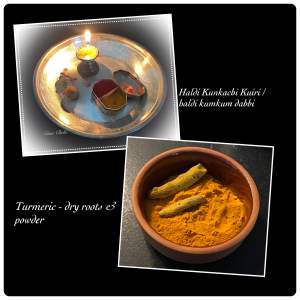 The fresh turmeric root pickle, which pairs well on the sides because of its tangy taste, the little heat of ginger, and its inviting colors.  Either you can grate fresh turmeric and ginger roots, or simply cut them into fine slices. Add finely sliced green chili. Put this mixture in a bowl and add salt and lime juice. Then add a little bit of toasted and ground mustard seeds and fenugreek seeds. Heat up oil in a pan and let it cool before adding it to the mixture. The pickle is ready once you mix it well and adjust the salt and the chili according to your tastes.
There, like a tip of an iceberg is all I could write about turmeric.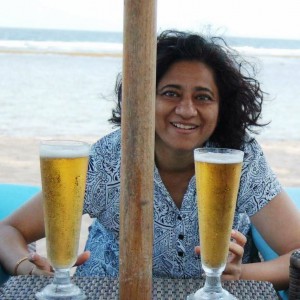 Seema Ganoo 
Engineer by education, passionate photographer &
food enthusiast from India, living in Vaasa,
and is happy to contribute to this column
which combines her love for food & photography.