Traveling as they say opens one's mind, for us it has been that – along with the cuisine exposure! 
"A mind that is stretched by new experience can never go back to its old dimensions" quoting Oliver Wendell Holmes, an American physician, poet, and polymath; and so true it is! 
Our Sojourn at Malaysia has really made us explore different cuisines and taste dishes from different parts of the world. Though later, of course, one does have their own preferences or lean to some dishes that make it more feel like home- that's what the experiences have been for me. Sometimes I feel like all of us are hypocrites to some extent – as I always say please never ever compare the weather, the cities, the children, the homes, the travels,,,, the list is endless and yet when it comes to this food here I was comparing the "Bhajis" with Japanese tempura, bean buns with "modaks" and then "Pääsiäispasha" to "shrikhand"… could it be because of the taste that we were exposed to that we try to find something similar to it?!
Coming back to dumplings, just the right fare for the cold and grey autumn day as I embarked on chopping the veggies. Engrossed in my cutting and grating the carrots, beans, spring onion, mushrooms et al, my mind was already wandering on the oncoming Diwali festival. Diwali, the festival of lights which we celebrate with all the sweet and savories along with lighting of lamps and firecrackers. Along with the traditional sweets and savories I make, I have started experimenting with the available ingredients. We have "Karanji", the half-moon shaped dumplings stuffed with sweet filling and then fried. The stuffing again varies from family to family. It could be made with milk solids(mava), sugar or a mix of roasted semolina, coconut, and sugar. I like to keep it simple with roasted grated dry coconut with sugar and for the flavour, a nice dose of cardamom. There, in my mind's eye the "karanjis" were made with the stuffing into those dumpling wrappers. 
My vegetable dumplings were made and now these days instead of steaming, we do enjoy them pan- fried too. Having picked up the taste here at Canada, I wonder, do our taste buds change as we pamper them more, or is to do with the climate and environment of the different places?
So, this time for our Diwali fare, made these "karanjis" along with other savouries. Made the stuffing of coconut and sugar and stuffed them into the readymade dumpling wrappers and then fried them. And voila – they looked good, nice-sized, half-moon shaped, just-right-two bite-sized snack and crunchy. The sweetness, just the right flavour with the earthy flavours of cardamom – This literally took me back to Vaasa and those "Pulla", straight out from the oven.  
Probably (in all likelihood), this is what travel does either physically or like right now as my mind travels with those heady flavours right from Burlington to Vaasa! I need to have a bite of that pulla along with a nice cup of coffee. Must add here I wasn't a big cardamom fan until we were in Finland and now, I just enjoy it even in cup of our chai- the Indian tea. 
The chai made with equal amount of milk and water put together and boiled over the gas/hotplate with Indian black tea leaves added into it and grated ginger and a wee bit of cardamom. 
I now have to come back to the present as I embark on our Diwali "faraal", that's the word used for the foodie fare made and eaten during this festivity. With both sweet and savories, crunchy and soft and flavours to enjoy in the cool days of winter.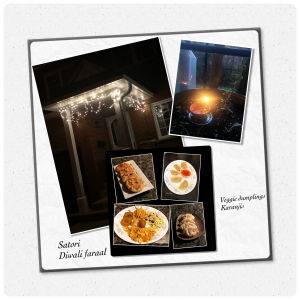 Next in the line for me to experiment was our "satori", that's sweet stuffed puris.
This time I wanted to try this dish using coconut, the fresh grated one; and jaggery as the stuffing. It was heated, allowing the mixture to cook a bit and then cooled off. For the outer covering I used the all-purpose flour with a spoonful of semolina, to which I added some oil and saffron strands soaked in warm milk. Made the roundels and stuffed them with mixture and rolled them a bit so that the stuffing was equally distributed, and pan fried them in ghee (clarified butter) to a nice brown. A flaky snack with the sweet stuffing and flavours of saffron blending into it tasted awesome in each mouthful. 
As I write, the traditional 'trick or treat' was just round the corner with starting of our Diwali. As people decorated their porches and yard for the upcoming evening, we too set up lights and the diyas, oil lamps to celebrate 'light over darkness or victory of good over evil'. 
As I delve into the history of how Halloween came about and us celebrating Diwali during one of the darkest nights, so much to learn and understand leaving you on this note of festive cheer! 
Engineer by education, passionate photographer & food enthusiast from India,
presently based at Burlington, Canada is happy to contribute this column
which combines her love of food & photography.
Seema Ganoo