As the summer approaches the markets are flooded with the fresh produce from the farms. New potatoes, green peas and before that, the sugar snap peas, tomatoes, along with berries. Those tiny little green balls tucked away in the pods make for an interesting conversation, as we sit to peel them and enjoy them as they are before anything worthy is made with them. No wonder we have found alternatives to our dishes – like the addition of potatoes, paneer-cottage cheese or cauliflower, or sometimes a mix of all these vegetables to create a tasty veggie; a dried version which can be used as filling for the wrap, or the curried version enjoyed with parathas or rice. 
Looking at those peas took me back to the Hans Christian Anderson fairy tale of how the girl was identified as a princess with the seven peas hidden right under her mattresses. Small they were but have a made a classic tale and reminds us of our childhood days. And now looking at those little green peas, they are loaded with vitamins and proteins. 
Here is the easiest and the favourite version of sugar snap peas. String the pods and then put them in a microwaveable bowl. Ground 3 cloves garlic, a green chili (or more if you can take in the heat), half an inch of ginger and add in two/three tablespoons of fresh coriander leaves. Mix this mixture with the pods, add in salt to taste, a teaspoon of carom seeds, a tablespoon oil and a tablespoon of lemon/lime juice. Mix everything well and cover and cook in the microwave for 3 minutes and then stir, and once again cook for 3 to 4 minutes. Remove, stir and its ready to be served as a side dish. 
The traditional Thursday soup which came as a surprise to us when we first heard of it. Since it had meat, we did not have it, but it made us feel at home to see those peas- the dried ones were as easily available in Finland as back home in India. We don't make a soup of it, but our dishes like ragda patties- is the mushier version of it. The ragda is the pea curry with different spices which is topped over the patties- made with potatoes. A quick version would be to use the readymade rösti that is available. To make the peas curry just boil them, add in the spices like chili powder, turmeric, some asafetida and little oil and salt to taste. Top it up with chopped onions, tomatoes and if you have chutneys and its ready to serve.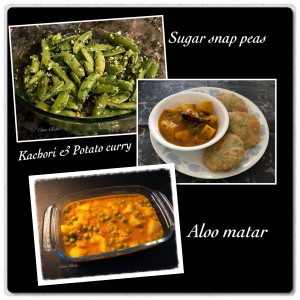 The best part about the peas is they can be made into different dishes – stuffed into a paratha, or into a ball of flour to make kachoris or used to make the curries. 
Aloo matar – that is potato and peas curry. Peel 2-3 medium sized potatoes and chop them into cubes. Take 2 medium tomatoes, chop them and the grind them along with ginger about half inch, 3 garlic cloves and if you like hot, add a green chili. Take 1 tablespoon butter and a spoon of oil and heat it in a pan. Add in a teaspoon of cumin seeds, and once they splutter add in chopped onions (a small one) and cook them till they are brown. Then add in tomato paste and cook it till the oil separates. Then add in turmeric, chili powder and mix it well. Add in a cup of peas and the potatoes, mix it well. Add in a cup of water and then, cover and cook. Check if the potatoes are done and add in the salt and garam masala. Garam masala is a blend of spices i.e., cumin, coriander, mace, clove, nutmeg, chili, cardamom. You can make your own or use the readily available one. Once the vegetable is cooked garnish it with cilantro and serve it with naan, parathas, or jeera rice. 
One can substitute the potatoes with paneer (cottage cheese) or cauliflower. For paneer, the block of cheese is cut into pieces and used, and it can be added once the peas are cooked. One can add cream to make it richer, but we enjoy our aloo matar simple and with parathas or naan. 
Boiled shelled peas, then ground into a paste and cooked with ground spices of ginger, coriander, cumin, chili tempered in oil to which a salt and a little sugar is added makes a good stuffing for the parathas or kachoris, making a heartwarming breakfast or brunch to boast off.
Ending on the note of Gordon Ramsay's words," I cook, I create, I'm incredibly excited by what I do, I've still got a lot to achieve." Let's enjoy the peas stories as the summers begin!
Engineer by education, passionate photographer & food enthusiast from India,
presently based at Burlington, Canada is happy to contribute this column
which combines her love of food & photography.
Seema Ganoo