Imagine my surprise, almost pleasantly shocked, when I realized that "the eggplant" that I always thought to be a vegetable, turns out to be a fruit, or more precisely a berry, if we go in details about it!
So, to rectify my understanding and give it its due importance, I decided to write about this colourful fruit called as brinjal (Indian English), baingan (Hindi), eggplant, munakoiso (Finnish), äggplanta (Swedish). Found in purple, violet, green, then graffiti purple, or greenish white, in different sizes and shapes.
The small purple ones can be stuffed with different spices like roasted and ground cumin coriander, chilli powder, turmeric, and garam masala and just cooked in pan with oil to make a wonderful main dish paired it up with either pearl millet or wheat flat Indian bread. And when garnished with fresh finely chopped coriander, it takes the dish to another level of delight. I have used big ones and chopped and stuffed them up but to get the authentic taste one needs the specific ones! Then the Thai green ones cooked in coconut milk along with mushrooms, tofu and with basil and lemongrass have a flavour of their own.
Recently we celebrated Makar Sankranti, celebrating when sun starts moving towards the North and the harvest season too. For this I made Bhogi chi bhaaji aka mixed vegetables; consisting of fresh seasonal produce; beans, chickpeas, pigeon beans, potatoes, brinjals, sweet potatoes and drumsticks. All of these are cooked in the gravy of freshly ground coconut, sesame seeds, roasted and ground peanuts, spice powders, turmeric, chilli powder and some tamarind juice, for that tangy flavour, and jaggery (palm sugar), to balance out the taste.
Grilling those big eggplants and using them to make the main dish to be enjoyed with bread is also a wonderful option. I would say the grilling of eggplants over open fire or in the oven does make a difference in the taste. One learns to adapt and enjoy it.
Litti Chokha, a dish from Bihari cuisine which I tried, was a wonderful combination of stuffed dinner rolls to be paired together with baingan Chokha. Chokha is made with flesh of the roasted eggplant, onion, tomatoes and the potatoes mixed with mustard oil seasoned with green chili, salt, fresh coriander.
Litti is the bread made with wheat flour to which I added some salt, oil and baking soda. The dough was left to rest while the filling was made. For the filling, in a bowl along with the roasted chickpea flour I added a pickle spice mix, ginger, garlic, some lime juice and mustard oil. Rolled out some dough in a circle and added the filling to it and sealed the edges making it in ball shape. These were then baked in the oven @ 190 C . Flipping it once after 12 minutes. Broiled them in the end to get the browned effect. These are then broken and dipped with clarified butter (ghee) and enjoyed with Chokha.
Another grilled version of those big eggplant is the Bharta (Hindi) or Bhareet (Marathi). For the Maharashtrian Khandeshi bhareet, rub a little oil over the eggplant and roast it well with green chili and garlic stuffed in its belly by slitting it.  Then remove the skin and mash it up. In a pan, add some oil, then the mustard seeds, some curry leaves, peanuts, finely chopped garlic. Once it has browned a bit, add the finely chopped spring onions, allowing it to cook a little. Then add the mashed up brinjal along with the chili and the garlic. Add salt and cook it for a few minutes. 
Another way is to mash up the roasted eggplant and then cook it with onion, garlic, ginger, tomatoes in mustard oil. Spice it up with turmeric, chili powder or garam masala(optional) and salt. Changing the medium of cooking also adds a different flavour, for example whether vegetable oil or mustard one.
Agreeing with Bobby Flay, the American celebrity chef, restaurateur and reality television personality "Cooking is a subject you can never know enough about. There is always something new to discover."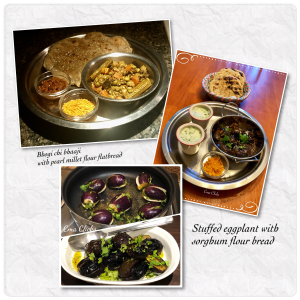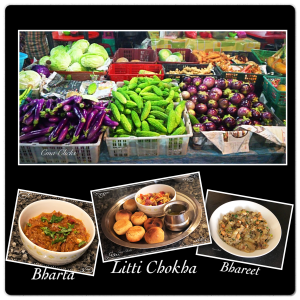 Seema Ganoo
Engineer by education,
passionate photographer & food enthusiast from India,
presently based at Burlington, Canada is happy to contribute this column
which combines her love of food & photography.