As we go on our walking trail, the mind wanders and wonders on the beautiful landscape all around. There's green everywhere, new sprouts and colours of bright summery flowers strewn all over against the blue backdrop of the skies. Days are longer and brighter, and it is a different ball game as one wants to be out and enjoy the nice sunny weather.  
Talking of mind wandering it went back in time to the Jack and the Beanstalk, the fairy tale. Where the seeds grew and the whole life changed for Jack…it took me back many moons ago when my daughter and I were at the book shop and she saw this wonderful story book and wanted it. It was not about buying, but this was the time when she had just started to recognize the alphabets, so there I had told her that if she could read something from it, I would get it for her! Both of us literally sat on the floor there and opened this book, it was a package of 4 books. She started of T h e J a ck and so on. and I got that book for her!   There it strikes me, wasn't it the packaging that attracted the curiosity of the child? And don't you think the same goes with the food? Must say the love for books is still there with her and also the curiosity and food exploration! As we say the food is eaten with all senses – first the aroma, then the eyes and finally the tongue!
By now you must have guessed it's going to be sprouts for this month and in keeping with my pulses trend going. They are healthy, easy to cook, and very versatile – it can be used to make a salad or a main dish. It involves less cooking time and more time to spend outdoors. And when summers can be rainy, we have the right recipe- misal -hot, tangy spicy!
Misal literally means a mixture so usually it is mixture of sprouts – mung beans, dew beans(matki), and sometimes black chana (chickpeas), that is cooked in a spice mix of onions, garlic, ginger, chilli, garam masala (the dry mixture of spices) along with coconut. This can also be made with only mung sprouts and eaten with pav aka dinner rolls.
Sprouted mung bean salad is one of the easiest dishes to make and real refreshing treat. One can add vegetables and fruits as one likes. Usually, I go with chopped red onions, apples, some orange or mandarin, cucumber, carrots and then a finely chopped chili, a generous squeeze of lime juice; all this over the bed of lettuce leaves with the boiled mung beans and lots of freshly chopped coriander. Usually, I add a few drops of water to the sprouts and cover and cook them for 2 to 3 minutes in the microwave. They are just cooked but yet a bit crunchy. This pairs up well with any rice dish or even parathas. One can add or delete the veggies or fruits to one's liking or availability.
Sometimes we just end up making sprouted mung or matki usal. Say for a cup of sprouts, take a tablespoon of oil in a pan, add a teaspoon of mustard seeds and when they splutter add in a teaspoon of chopped garlic and half a teaspoon of ginger, then add in the garam masala (the spice combo) and then the tomatoes if you are using or just the drained bean sprouts. Stir it well, then add in a little water cover and cook. Add in salt and we add Amsul (Gracinia Indica), and some jaggery. As we say some sourness and then some sweetness added. Stir and its done. Serve garnished with fresh coriander and some chopped onions and tomatoes. 
If sprouts are used as stir fried or in salads, there's no stock/broth available. But when you have boiled these sprouts and have the stock, it can be made into Kalan. It's a Maharashtrian soup or an appetizer made with sprout stock, buttermilk (piima) and spiced up with garlic and cumin and chili and salt.
Next, I loved experimenting with the bean sprouts which I was first exposed to on our Malaysian sojourn. Adding them in noodles or just having them as a stir fry with rice makes for a nice meal. Kongnamul: Fresh Korean Bean Sprout Salad – I experimented with and enjoyed on the sides with rice and tofu. 
Julia Turshen, the American bestselling cookbook author, food writer, cook, and food equity advocate has so rightly said," Cooking is simply a huge and often very fun puzzle of piecing together techniques with different ingredients. Once you know your basics, the world is your oyster (or your clam, your chicken thigh, block of tofu—whatever makes you happy)."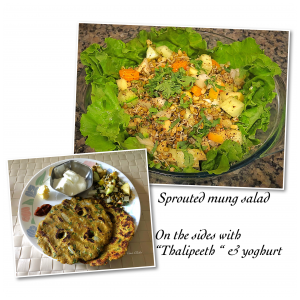 Enjoy the summer with the sprouts either in a refreshing salad or as a spicy misal or usal and connect the fairy tales or the stories and wonderful memories of your life as I do with mine.
Engineer by education, passionate photographer & food enthusiast from India, presently based at Burlington, Canada is happy to contribute this column which combines her love of food & photography.
Seema Ganoo