One evening, my kid tells me why don't I make "chai latte" – which simply translated would mean tea – milk and wasn't that what we had been having all this time? Then she shared with me the recipe and well, just as I have realized, the way one adds ingredients in the beginning or the end changes the flavour, texture and more. This reconfirmed my findings, and what I found was that it was the addition of the spices to it that made the Chai latte different from our regular tea. Those were cinnamon and cloves added in and also as garnish. So, there for my spices series, I decided to combine cloves, cinnamon, star anise and nutmeg together – the stars of the spices which are usually used together to enhance the taste, the flavour, and the aroma too.
et me start with nutmeg, the earliest I remember mentioning it is in one of our desserts, the Puran Poli. Then it was coffee, this nutmeg spiced Polson coffee was one an aunt made for us any time we visited her. Trust your food memories to bring back the good times that we spent with people who are now gone, quoting French author, Charles Pierre Monselet, "Ponder well on this point: the pleasant hours of our life are all connected by a more or less tangible link, with some memory of the table." 
This also made me go back in time when my kids were very young and had hardly started with their liquid diet. Another of Grandma's tip was to rub few spices like nutmeg, turmeric, and almond etc with a little milk over stone (called sahaan), with just one or two circular motions, and that was it. The mixture was made to be licked by the child. It helped maintain the gut health along with the wellbeing of the child. Nutmeg is a seed which is to be used sparingly because of its properties. In fact, this is what made me think that we should really know how to use the spices well and in what quantity or else we can end up spoiling the dish, or worse, changing the chemical properties, thereby causing us disadvantages instead. I had heard of using nutmeg in desserts but my first real experience using it was when I tasted the roasted cauliflower soup garnished with a little grated nutmeg, and that's when the spice really interested me.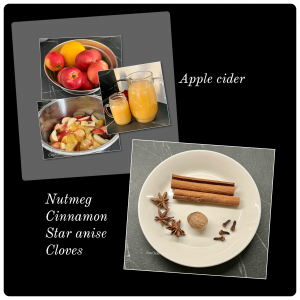 This soup calls for roasting the cauliflower in oven after tossing it in some oil and salt. In a pot, cook onion and garlic in a little oil, and then after first adding the vegetable stock, and then the roasted cauliflower pieces, allow it to simmer. Then blend it in pot along with some butter. Once done, add in some lime juice as per your taste and a few nutmeg gratings. 
Cinnamon, for me, is a spice which is used in our Goda masala or to make various rice dishes like a pulao or biryani. Now I'm learning to use it in drinks and desserts, and I think am getting addicted to adding cinnamon sticks to my dishes. As I write this, fourth of October was the "Korvapuustipäivä," the day of cinnamon buns, and I'm learning to enjoy the taste of cinnamon in these buns as well as a topping over coffee. Reading Walt Whitman's, an American author's, quote, "Give me juicy autumnal fruit, ripe and red from the orchard,'" reminded me of the warmth of the apple cider. The apple cider in the background is simmering away, made with chopped apples, orange, spices like cinnamon, cloves, and star anise, along with some sugar, cooked in the instant pot with water. Blended, sieved and then it is ready to pour. Let's continue with it in the next one, and till then let's enjoy the season's "Ruska" at its best with a glass of warm apple cider.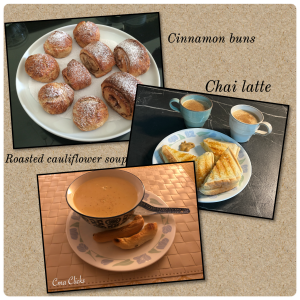 Seema Ganoo 
Engineer by education, passionate photographer &
ood enthusiast from India, living in Vaasa, and is happy to contribute to this column
which combines her love for food & photography.