Trust our mind to time travel, not only to the places, people, food; this time it went overboard, by that I mean it travelled right into my childhood readings. To go back like always when it's time to start writing on Seema's Food; slow cooking popped up this time, then the mythological tales of Khichadi with Akbar and Birbal.
With autumn at its best now and soon when winter takes over, it is the nice, warm, robust, and earthy foods we crave. Not only that, imagining a pot of soup on the stove, or for us a pot of dal simmering away and the flavours whiffing away in the kitchen and the whole home, begins to tempt our taste buds. My thoughts then go back to mythological tales of Akbar and Birbal, read during my childhood; these stories had great morals and teachings with it.
Akbar, the king, once asked in his court if anyone would do anything for money to which, the very intelligent Birbal, his minister, said yes. Akbar asked if anyone would stand in the cold lake nearby for the whole night and of course, there was person who did that. Next morning, he was asked how he managed, and he said he looked at the lamps of the palace and managed to withstand the cold water. Akbar said it was because of the heat from those lamps and hence he deferred the reward. This was injustice, and so, Birbal to rectify the situation, invited the King for food at his place. After waiting for a long time for the food to be served, Akbar wanted to know the reason, and so Birbal took him to site where he had hung a pot of rice and lentils way high up over the fire. Seeing this the king said how could it possibly be cooked, Birbal answered him the same way as the man standing in the cold water faraway got the heat from the lamps. Akbar understood his folly and paid the man; the moral being that if a man has determination and the need, he will go to any extent to achieve it, withstanding all the obstacles. But what got me here is the title of the story- Birbal's Khichadi (the rice lentil mix with spices), the slow cooking, of course keeping in mind that in the fable, it would have never got cooked! 
Long story short here is the slow simmering of the dal that I thought of writing.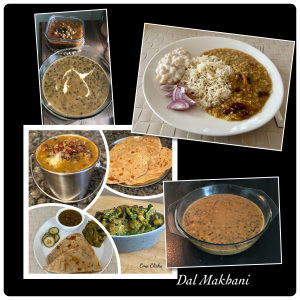 "The smells of slow cooking spread around the house and impart a unique warmth matched only by the flavour of the food", quoting the Israeli chef, Yotam Ottolenghi. 
The dal makhani which was coined as 'black dal' by my kids is one of the home favourites. Made with black urad dal (whole black lentils) and some rajma (kidney beans) these lentils are soaked and then boiled with a teaspoon of crushed ginger, some chili powder, and a little bit of salt.  While it boils and then cools down, we can get about to making the gravy for it. Take some butter and oil, or even clarified ghee, in a pot, combining the two prevents it from burning. Add cumin seeds, and once they sputter, add in onions, chopped garlic and ginger. Let it brown, then add in chopped or pureed tomatoes and sauté it till everything is cooked. Add in turmeric, coriander cumin powder, salt and add in little water if needed, and then add in the boiled lentils with the all the liquid. Let it cook on low heat, and if needed add more water and let it simmer on. You may add the ready-made dal makhani masala and add cream or a blob of butter once it's ready. 
Usually, I make double the quantity of this dal as it tastes much better the next day will all the spices and the lentils cooked and heated over the period add more flavors. This goes best with jeera rice; that's rice sauteed in ghee with cumin seeds and cooked with double the quantity of water to rice.
Next my go to recipe for any dal be it mung dal or masoor dal. Soak it in water for some time and boil it with finely chopped onions, tomato, garlic and ginger, and green chili, if one prefers. In a small pan add in oil, then cumin seeds, and once they splutter add in sliced garlic, red chili, curry leaves and then add this to the dal mixture. It can be garnished with chopped coriander or just enjoy as it is with flat Indian bread or rice.
As with these dals we also end up making dessert with it and this time I thought about Moong dal halva. The richness of it with addition of ghee, milk takes it to another level. 
To conclude, quoting Carl Honoré,"The central tenet of the Slow philosophy is taking the time to do things properly, and thereby enjoy them more."