"There was a Young Person of Bantry, 
Who frequently slept in the pantry;
When disturbed by the mice, 
she appeased them with rice 
That judicious Young Person of Bantry."
~Edward Lear, English artist, writer.
Reading this I realized, though I have mentioned rice in many of my posts, I have not really given it its due, considering it is one of our staple foods.
So, rice it is for this issue.
Since one cannot travel physically its always easy to teleport in our thoughts, or for that matter, these days browsing away, in different countries and cuisines too. On one such journey we came across the kebab in pistachio pilaf with saffron flavour also called as Polo from Iran. Since we are vegetarians, I used vegetable/lentil plant-based balls; potatoes layered at the bottom with the rice – all soaked in saffron. Then the balls, over it slices of tomato, and roasted paprika-onion mixture- covered & cooked. What flavors & aroma filled up my kitchen as I opened the lid! Instead of pistachios I improvised with cashew nuts.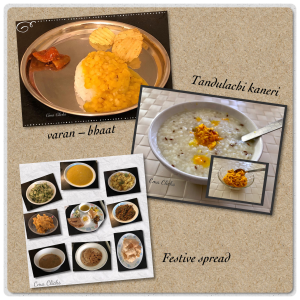 These flavours and the style of cooking made me look at our recipes. The vegetable biryani I grew up eating – is similar in terms of layering and full of flavors with garlic, onion, coriander, mint and spices like cinnamon, black pepper, cloves along with lots of vegetables like cauliflower, potatoes, green peas, and more. With cucumber raita on the sides, the meal is complete. We also use a little bit of saffron and mint too for those extra flavours. Another rice preparation being a complete meal in itself is the Goan baked rice. Here the rice, the basmati, long grained one, is cooked in coconut milk along with chopped onions, cumin, cloves, black pepper, bay leaf, all sautéed in ghee. This rice is then layered over cooked vegetable mixture in gravy of tomato, onion, garlic, ginger and baked in the oven for couple of minutes. This rice is topped over by fried onions and cashewnuts too.
Most of us have fond memories of food from our childhood. Tandulachi kaneri, (or congee if I may say so, as it the closest, I could call in English) was our breakfast & with आंबे हळद (ambe halad), the fresh turmeric roots. The tangy taste of 'ambe halad' marinated with grated ginger, salt, lime juice and a pinch of asafetida with warm tandulachi kaneri took me back to childhood times. My father had grown up in Raotale (Chiplun, Maharashtra) and he would always say that this rice, which is almost the consistency of porridge was what he had for breakfast every day. Maybe sometimes with 'metkut' (spiced lentil mix), other times with yoghurt or fresh mango pickle. Anytime we were sick and not in mood for mung dal Khichadi (again a combination of moong lentils and rice, which is light on our stomach) – he would suggest making some 'tandulachi kaneri'. It would be made and fed lovingly, and soon we would be feeling good. He would add ghee, cumin seeds, ginger & that taste still lingers on. Now my better half uses carom seeds and ginger, and both these condiments are good on stomach and this congee is our go to when we want something light and the flavours strong and sharp. The flavours of carom and freshly grated ginger blend in perfectly, its pungent, a tad hot, and earthy, just the comfort feel that one looks out for!
Simple 'varan – bhaat' i.e. split pigeon lentil dal and rice are one of the basic dishes. Usually one eats it with ghee, a squeeze of lime, little salt, all of which enhance the taste. It's interesting how this simple combination can be a meal by itself or complement with the festive food. By festive food I mean with the flat bread or puris, vegetables, usal (beans delicacy), salad, pickle, or dessert.
Usually, the variety of rice used in these dishes is the small grained one. The leftover rice is easily used the next day, tempering it with mustard seeds, turmeric powder, curry leaves, either with peanuts or chopped garlic and makes a good dish by itself.
Rice is so versatile that one can combine it with vegetable or beans and it's a meal by itself or for that matter some favorite desserts too! Like 'kheer' (the rice pudding ), 'phirni', 'Narali bhaat'- coconut rice etc.
'Rice is a beautiful food. It is beautiful when it grows, precision rows of sparkling green stalks shooting up to reach the hot summer sun. It is beautiful when harvested, autumn gold sheaves piled on diked, patchwork paddies. It is beautiful when, once threshed, it enters granary bins like a (flood) of tiny seed-pearls. It is beautiful when cooked by a practiced hand, pure white and sweetly fragrant." ~ Shizuo Tsuji
Engineer by education, passionate photographer &
food enthusiast from India, presently based at Burling- ton,
Canada is happy to contribute this column
which combines her love of food & photography.
Seema Ganoo