Here comes December, the end of the year and as they say all good things must come to an end! But I go with the rock band, Semisonic´s "Every new beginning comes from some other beginning's end" and so, as 2022 ends, it will be time to welcome in the new year.
So, as we look forward to our tenure getting over here in Canada, it's time to round up the foodie treats and that's when I realized it's just time to have an assorted spread for December. 
Enjoying the tropical vegetables thanks to the availability from the nearby regions, it has been a melange of all sorts of flavours as the kitchen is in the last stage of closing.
The French beans, the bottle gourd koftas, and of course, when I found a treasure of green pigeon peas, surati papdi(beans), and green garlic stored in my freezer section, it was time for some "undhiyu," with fenugreek leaves dumplings and small eggplants, potatoes and sweet potatoes. 
There were still some new things that I tried this week like the Dates pickle. Yes, you read it right. As soon as I saw the recipe on one of the food groups that I follow I had to try it out. Having a lot of dates at home helped; chopped a few and then added ground carom and fenugreek seeds, some red chili powder and then added some fresh lime juice. Mixed up and there it was done. I must say the sweetness of dates blended in well with the flavours of the sharp, pungent carom and nutty, bitter aromatic fenugreek with the sharpness of the red chilli powder and not to forget the sourness from the lime.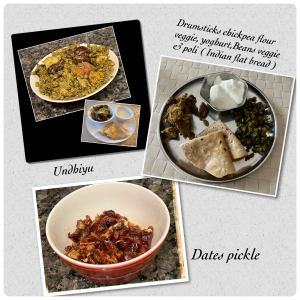 This reminded of the times I had made some dates roll with almonds, cashews, walnuts and cornflakes, a healthy version which also satisfied the mid-morning or evening cravings. Pitted dates were chopped to which I added powdered cashew nuts, almonds, walnuts, and some crushed cornflakes. All was then mixed well and rolled into the log shape covered with aluminium foil and left to rest in the refrigerator for an hour or so, before being cut into desired size. This can also be made into small bite size balls.
This is what I would call cascade tripping being an Electrical Engineer, meaning that one trip leads to another and so on.  Bringing another foodie memory of mine, the Fenugreek ladoo that I had made back in Vaasa. I had added cornflakes and followed a friend's recipe and then experimented with dates too, but here since ingredients are easily available used jaggery, Acacia gum, ground fenugreek seeds and homemade ghee (clarified butter). 
Looks like this article is turning into the sweet endings and so glad I am that I allowed it to go with the flow. So, the next in line comes 'sukhadi' or 'Gol/gul papdi' made with just three ingredients.  Having eaten it during my childhood but never attempted making it until one day a friend of mine brought these small square sweets neatly wrapped in the foil, just like a candy. When she explained the recipe stating that its takes just a couple of minutes and I was hooked.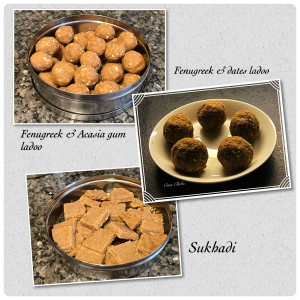 It is made with ghee, wheat flour and jaggery. The flour which is about the same as the quantity of ghee is roasted very well till its nice and brown in colour and gives off a sweet, toasted aroma. That's the time, when grated jaggery (half the flour quantity) is added to the pan, mixed well, and then to be taken off the heat. Then pour the mixture in the greased plate, even out the surface with a spatula and cut into desire shapes. Let it cool before you pop one in your mouth. 
That's the best thing I like about cooking, the ingredients can be added or skipped. By that I mean one can add dry fruits to sukhadi or dry ginger powder or like the way I made with just the basic ingredients. Even the quantity the amount of ghee and jaggery could be varied too, unlike baking which I found one must follow the recipe to the tee.
So, I would say that cooking is more a pinch of this or a spoon of that or sometimes a fistful and then one decides how to go about it by the taste, the texture. Agreeing with the Canadian culinary author, Madam Benoit, "I feel a recipe is only a theme which an intelligent cook can play each time with a variation."  
Which brings me back to the present and time to end here on this note. Wishing you all happy holidays and great family time.