As the days gets longer, the snow is slowly starting to melt; though at times it seems the cold persists. Yet with the sun shining in for more hours, one can already feel that spring is not far away. So, aptly Charles Dickens articulated, "It was one of those March days when the sun shines hot and the wind blows cold: when it is summer in the light, and winter in the shade."
New buds seem to be peeping out and also some grass is seen. Yes, the seasons change and it´s time to celebrate; and what better way than with the food and the different flavours which add to the celebrations.
Holi, the festival of colours, that marks the end of winter and starting of the spring or the harvest season. There is a bonfire on the night of full moon, and the next day people play with powder colours and splash coloured water on each other. Reminiscing on those days when the faces were unrecognizable with colours splashed over and fun times coming home to a nice lunch of hot puran polis and the neighborhood lunches of khichadi and kadhi.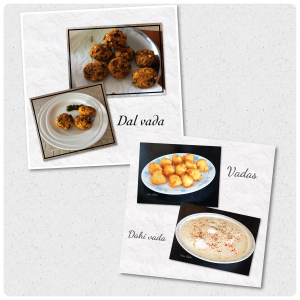 Puran poli, is made especially during this time. It is a sweet lentil stuffed flat bread. Puran is the sweet stuffing made with chana dal (the Bengal gram or the skinned split chickpeas) and jaggery; and poli is the flat bread made with wheat flour or a mix of wheat flour and all-purpose flour. For the Puran, the chana dal is soaked for couple of hours and then boiled completely till it's soft and mushy. It is then sieved, in-fact we have a special utensil for it, and then is mixed with jaggery, and the mixture is then cooked together in a pan. Some may add cardamom or saffron or nutmeg to this mixture, but we prefer the original taste. The dough is kneaded soft, and I use a half wheat and half all-purpose flour mixture. The puran is stuffed into the balls and rolled flat and this is cooked on both the sides over medium heat on a girdle. Ghee is spread on both sides. Puran polis are enjoyed either with ghee or a bowl of milk.
That was the dessert made with the lentil. Then we have nice spicy vadas; fritters which serve as teatime snacks. Made with soaked and coarsely ground chana dal and little bit of udad, fresh coriander leaves, red dry chilies or green if one prefers, and some curry leaves along with salt as per taste and with some finely chopped onions. Formed into small, flattened balls or patty of the mixture and then deep fried in oil. These vadas are served with coconut chutney or also taste good with tomato ketchup.
Then there is another dish: dal pakwaan, a Sindhi cuisine which is made with the chana dal and paired with crisp pakwaan or puris, small fried roundels made of wheat flour. This works great as brunch or breakfast too. The dal is soaked and then cooked mushy with some turmeric and salt. Once cooked, it is tempered with mustard/cumin seeds, chili powder and curry leaves in oil. For the dough it's made with all-purpose flour to which carom seeds, cumin seeds, salt, black pepper, and some ghee (clarified butter).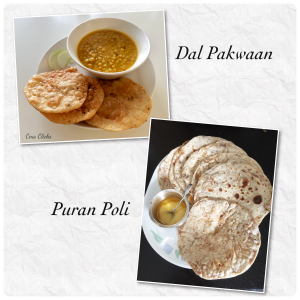 Dahi vadas– they are split or whole skinned black gram fritters soaked in yoghurt (Dahi). Vadas are the pulse fritters wherein the udad dal is soaked for 4-6 hours and then ground in a blender with little water, followed by bits of ginger, chilli and pepper. Small dumplings are then added to the hot oil and fried. These are soaked in the warm water with asafetida, salt and water squeezed out. The fritters are the dunked into the whisked yoghurt to which salt and a little sugar added to it. One can have green chutney or the tamarind chutney over the dunked vadas, but we have it just with some roasted cumin powder and the readymade chat masala.
So, the pulses on their own, or mixed, make a whole meal which can be paired with grains like rice or wheat and make up a healthy food option. So, be it through the colour, or the textures, or the taste, pulses make their mark on our plate.
Seema Ganoo
Engineer by education,
passionate photographer & food enthusiast from India,
presently based at Burlington, Canada is happy to contribute this column
which combines her love of food & photography.